District 10 News
Congratulations to the D10 Boys Tier 1 15 Team
The Green Giants  (District 10) advance to Nationals after sneaking past the
League champion Walleye (District 3), by a score of 3-1.
The Green Giants jumped out to a 1-0 advantage in the opening seconds and
held a narrow 2-1 lead after two periods.
They withstood a furious charge by the Walleye in the third period
before notching an empty netter to secure the victory.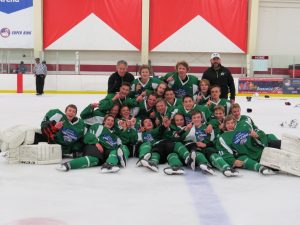 The National Tournament will take place in
Scottsdale, Arizona / April 6-10, 2017
Game Scheduling
October 27, 2016 / 5:00 PM / Coon Rapids Ice Center
Bantam A, AA, B1, B2; Peewee A, AA
Game Scheduling
October 29, 2016 / 8:00 AM / Coon Rapids Ice Center
Peewee B1, B2; All Squirts; Girls 10U-A, 10U-B; Girls 12U-A and 12U-B
Game Scheduling
November 15, 2016 / 7:00 PM / Anoka Area Ice Arena
Girls 15U-A, 15U-B
Mite Scheduling
Wednesday / November 16, 2016 / 6:30 PM / Coon Rapids Ice Arena
Contact Mark Osmondson with any questions
Mandatory Managers Meeting for Squirt/10U Leagues
October 29, 2016 / Hidden Haven Golf Club
10:00 AM – Squirt B1, B2 & C
1:00 PM – Squirt A, Girls 10U-A, 10U-B
3:00 PM – Open for all other league team managers
Level 1: October 29th, November 13th, December 11th – Super Rink
Level 2: October 29th, November 13th, December 11th – Super Rink
Level 3: October 29th, November 13th, December 11th – Super Rink
Level 4: November 19-20th – Sioux Falls, SD / December 7, 2016 – Super Rink